I tell everyone the same story about how I got into RuPaul's Drag Race: on the first weekend that I was free from producing my first sketch show I woke up with nothing to do and decided to marathon the whole show. Imagine my elation when my second episode into the new chapter in my life had a challenge centred around my all-time love, professional wrestling. This episode was guest judged by two basketball players because who else would have a intersectional understanding of wrestling and drag queens.
For those of you who aren't familiar with the format of RuPaul's Drag Race, it is a reality competition hybrid between America's Next Top Model and Project Runway featuring drag queens.
At the start of the episode, the sound for the controversially named transphobic slur equivalent of Tyra Mail shows up and RuPaul relays a message filled with fighting allusions to give the queens a hint of what's to come. RuPaul, out of drag, then emerges with a mini challenge that has the queens putting their padding abilities to the test. The queens are given 30 minutes to make the best bum pads they can and then must present their creation. It's kind of like in school when you're put into groups, are given a discussion question, and then need to report your findings to the rest of the class, except with cushions you're stuffing in your pants. Now the real winners of the challenge may not actually be who you, the viewer, think should win. As mini challenge winners tend to help storylines along, they're wins for the sake of kayfabe. Phi Phi O'Hara, Willam and Chad Michaels are selected as the winners and are gifted the opportunity to pick the queens they will work a match with, essentially.
The Drag Race faithful are then taught their first pieces of wrestling lingo: faces and heels. Tiny baby me who knows all about wrestling applauds this information. Ru says three guys who were in town for PWG and happened to be SAG members will be teaching the queens a few moves that they will use in their in-ring debuts. The first time I watched this episode I only recognized one of them so I'm really curious to see who I freak out about this time.
Hey! It's Joey Ryan! He's here to show us how to train people and not be an asshole like Bill DeMott! So nice to see him with a glimmer of hope in his eyes that one day he'd get a developmental deal with WWE. I still don't know who Hector Canales or who Ryan "Master of Submissions" Taylor are. So I'm as bad of a wrestling fan as I was in 2013, good to know.
Joey Ryan basically shows them all the moves they're going to perform and Phi Phi worries about Lashauwn's performance and if she'll take it seriously. They're learning how to wrestle in a day, this stuff will not be on any PWI match of the year lists anytime soon, but at the same time, Lashauwn is not committing to the rehearsal as much as she should be.
Team Willam comes in for training and Joey Ryan tries to get the queens to work a crowd. Jiggly's heel persona is a lot like one of those out of control teens on Maury, while The Princess has checked out and can't really get into being a heel. Willam reads The Princess for her muted heel tactics. You'd think that a bunch of catty queens who love to tear one another to shreds would come to light given a challenge that forces them to take the piss out of one another.
Team Chad then comes in and oop! Madame's ankle! Again! It's been a constant excuse of her throughout the episode, that and her lack of athletic ability. Despite that, LaQueer's characterization is really working in the rehearsal.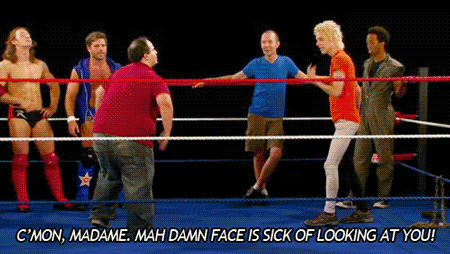 Now that the practice bit is over with, let's go back to the workroom where Ru can terrify the girls and make them question their decisions. Phi Phi has booked herself as a babyface and gave Kenya Michaels and Latrice Royale a bearded gimmick. RuPaul worries about the choice, not realizing that over a year after this episode was broadcast, beards would be all the rage in professional wrestling. It's a good thing RuPaul isn't a real booker.
RuPaul also says "people watch wrestling because they wanna be excited, they wanna be turned on, they want beauty" and… on the surface I really, really, REALLY want to disagree, but as I recall that I had a boy band crush on The Shield in my day I know that he's still kind of right. It's just annoying to have it brought up in the context of … what I guess is supposed to be women wrestling, and women's wrestling already has a pretty bad rap.
Promos! RuPaul understands wrestling even just a little. Each tag team gets their own backstage segment. Introducing LA's Finest, a lazy blonde bimbo cheerleader gimmick, and The Bitter Betties. LA's finest are obviously billed to be the faces but they admit they put hair growing tonic into Bitter Betties shampoo.
tr
Phi Phi and Lashauwn use vanity as their gimmick, which unbeknownst to them is actually a common heel trope. So the story is really not strong enough. Another downside to teaching drag queens to wrestle and expecting them to be ring ready in a day is they don't know how to sell moves to save their life. Kenya Michaels was really the savior of this group, her energy was right and she was the perfect size for excellent double team opportunities. Phi Phi hits a clothesline like a wet noodle and pulls out a blush brush. This match is no makeup disqualification. The finish has Latrice throwing Kenya onto Lashauwn with a cross body for the win. Highlight of their whole bit was Latrice really owning the "I'm a big bitch" gimmick and tossing tag team partner Kenya into the ring.
Team Willam is up next, and once again the backstage segment does not clear up who is a face or a heel or what the point of the beef is well enough. Willam and Dida are equally a decent promo but Jiggly really has that ruthless agression on lock. The Princess is just there. The match is the same as the segment, Jiggly outperforms everyone in the group, Dida and Willam are doing an acceptable enough job and the Princess is… there.
Team Chad has the first complete heel tag team of the night, classic freak gimmick, angry and everything. Chad and Madame LaQueer are basically Kevin Sullivan and the One Man Gang except in drag and pretty. Milan and Sharon Needles are pretty much playing the pristine, harmless babyfaces with crabs BECAUSE OF KEVIN SULLIVAN AND ONE MAN GANG MAKING DISHONEST MEN OF MILAN AND SHARON'S BOYFRIENDS. IT ALL MAKES SENSE. FINALLY ONE OF THESE MAKES SENSE.
In ring, Sharon is as talkative in a match as a drunk Dean Ambrose in a death match, they probably use the same references too. LaQueer and Chad knocked it out of the park and Milan's wrestling wasn't even shown because it was so obvious who the most successful team of the night was.
For myself and many others this episode of Drag Race was a wonderful amalgamation of two favourite things (the middle of the Drag Race/wrestling Venn Diagram is larger than you think), but I learned very quickly that a drag queen's perception of a character does not a wrestling character make. Both are amplified and often larger than life, but you need more than just "like me 'cause I'm pretty and sassy."