Imagine yourself all settled in to indulge in your favourite pastime– whether it's getting all dolled up in your best swag, holding up your meticulously crafted sign or curling up on your couch next to someone you care about complete with snacks- both instances ready to scream your heart out. Your favourite workers have entered the ring and– BOOM! you get a glaring reminder that this place isn't for you. This is a man's game and no matter how much you cry out the odds are never in your favour. "This is how it's always been," they cry, "Why are you such a killjoy?", and "Learn to play along, it's just for fun."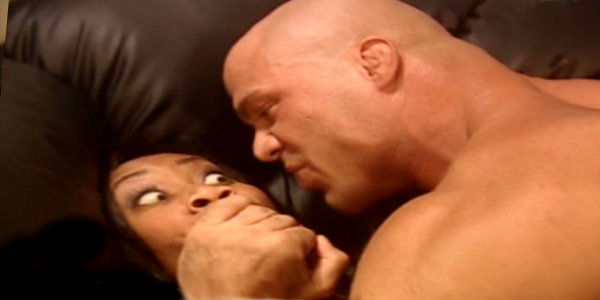 Being in this community is full of constant reminders that this space is not safe and it's our responsibility to play along if we wish to be included or leave.
All of the above was made abundantly clear during the 2016 Royal Rumble Divas title match in which the audience is blatantly reminded that women are objects who are at the whim of everyone else around them. You're peeled in to a match that is showing exceptional prowess and mat work that has, up until recently, been unbeknownst to the women's division but all eyes (read… cameras) keep cutting to Ric Flair. Don't worry, Charlotte, Daddy's here. It's okay, WWE Universe, there's still a man near the ring so everything is fine and dandy… nothing to see here. But look, they're doing such a great job! They're actually wrestling! Ric Flair has to prove he's still the boss, so in his natural heel state he grabs Becky Lynch, turns her around, and kisses her against her consent. Talk about a jarring moment that filled me with rage and disgust. But it's all in the nature and fun of pro-wrestling, except it isn't. The fun was fully removed when you sexually assaulted a woman. Some would argue that Becky Lynch obviously consented to this outside of kayfabe, but take a moment and think about why– if she won't do her job, someone else will. It is not a woman's job to be harassed in the ring by men, and it shouldn't be expected of anyone at this point (or ever). What a way to throw a wrench into the excitement of an otherwise wonderful match and suck any potential fun out of it, making it almost impossible to pay attention to what's happening before me– at this moment seeing nothing but red. This extends beyond Becky, past her taking one for the team in the most horrid fashion imaginable, losing the match and getting buried with no room for revenge in a storyline. This extends beyond all of the women who are workers in, and outside, the WWE who are constantly put in these spots where we are treated as nothing more than mere sexual p
laythings. This extends beyond everyone watching who feels violated, who feels sick to their stomachs, who feel a deep and painful empathy because they to have experienced unconsentual sexual behaviour at the hands of others. It permeates into our culture for workers, for fans, for passersby where this is the norm, and the lovely motto of "Just don't look" can't be applied here. This affects everyone. Situations like this continue to fuel wrestling being an unsafe space for anyone who isn't a cisgendered heterosexual white male. Unless you're the Nature Boy himself, it's all downhill from here.
Fellow Femmezuigiri contributor, Brittany Meyer, offered up some personal experience with this sort of situation and how toxic and misogynistic this community can be:
I fell out of love with wrestling after I was a valet, one time, for a wrestler I thought I respected. It wasn't until the gimmick faded and the texts came from the person, and not the character, that I had to come to terms the fact that this is just spandex and dudes living out a dream on whatever ring that will have them. I have not seen him in person in almost three years, and in that time he had held a toxic relationship with a friend of mine, harassed other wrestlings friends on Facebook and Twitter, and has tried to manipulate me back into his life with suicide threats and promises that he's getting better. With so many incidents proving he was untrustworthy and manipulative, I cut him out of my life. That was one year ago, and I have refused any message or friend requests since.

As a Chicagoan, I felt good about the fact he was seldom on the wrestling scene here since he's located in Florida. I have gone to many shows in the greater Chicago area and have come to love one particular company, Freelance Wrestling. Freelance was started by some local wrestlers that I have been watching grow since I first moved to Chicago; they're smart, driven, and produce one hell of show. They have been around for over a year, and I would religiously attend their events, often introducing friends of mine to live wrestling through their shows and having our own designated standing location by the ring so we could be in a good position to high five wrestlers and yell into the camera.

About a month ago, I saw they booked the unstable wrestler who I had pushed out of my life. I was nervous to attend this show, but I also didn't want to shirk support of my favorite promotion just because he was in the opening match. Hoping the wrestler wouldn't say anything to me or attempt to reconnect, I thought it would be best for me to not post about it on Facebook or twitter and quietly attend– thus sacrificing any potential world of mouth the promotion could get at the hands of their fans in order for me to have some peace of mind.

With his match in progress, I noticed he didn't look at me and he mostly stayed on the other side of the ring; I thought I was in the clear. He won his match and I saw him blow a kiss across the ring to my side. It looked as if it went to a girl standing near me and just acted like nothing happened. I then watched him cross the ring and climbed over the ropes on my side. Now, I got nervous.

As a part of his scummy heel character, he usually asks for a kiss on the cheek when he wins a match. I was now concerned with the fact that he may ask me for a kiss and I would have to decline, in front of all the cameras, and audience members who will most definitely cheer him on. I was getting worried.

Once he hopped off the ring, he was just feet from me. He received a borage or high-fives from a friend before I saw him turn to me. Instead of him presenting his cheek, I saw him lunge, face first, into my face. It looked like he was about to kiss me, and play all of this off as 'just part of the show!' Instinct kicked in, and I slapped him with my right hand to get his face away from mine. His lips didn't touch mine; he just shoved me and ran off. 

I was mortified. I couldn't believe that a show I love so dearly became a place of harassment for me directly. This left me to attempt to logically rationalize how to go forward– I guess I'll avoid his shows since he'll use his heel gimmick to get away with whatever he pleases. The bigger fear is how Freelance would response when I approached them. After approaching others within the community for advice most of what I received was unfortunate, but many of them offered condolences with the caveat that this was the sad reality of wrestling culture. It's amazing for something that exists purely in the realm of fantasy that this was an acceptable 'reality'.

The reality I was dealing with was the fact that I didn't know how I could ever feel comfortable at a wrestling show again. My reality was grappling with the conflicting emotions of how something I love can accept this behaviour and side with the aggressor.  It may have been the reality, but I couldn't rightly live with it. For myself, and for every person out there that had dealt with a similar situation and was too afraid to speak up since 'This is just how it is,' I needed to say something to the promoter. I swallowed painfully and sent out a lengthy message with a fear at the pit of my stomach awaiting the inevitable "Yes, we heard his side and we know you're crazy; if you didn't want to see him you shouldn't have come." The moment I pressed send, I began to cry. I've accepted the fact that I was targeted, harassed and nothing will be done about it. The unwelcome whiny outcast of the Chicago Wrestling community who spoke up and ruined all our fun.


It only took moments for me to get a response, but my heart exploded with joy. A profuse apology from the promoter thanking me for bringing the situation to his attention complete with reassurance that the footage will be reviewed with their team. More tears, now ones of pure joy. I was awarded the rare opportunity of having a voice and a valid opinion. Legitimate shock that I was allowed to enjoy wrestling without disgust or dread. Being believed and listened to was never a response that I could have anticipated, and I honestly cannot thank Freelance Wrestling enough- you have set the bar for integrity and I hope that promotions around the world can learn from your example.

It would be nice if the story ended there, but to no one's surprise I'm sure, word got back to the worker of the interaction and the ever-changing "stories" began pouring out. He's just doing his job and if he upset anyone in the crowd then he was doing it well. News flash: harassing women is no longer an acceptable way to gain heat or pops, and it never should have been in the first place. Instead of the story ending here, he took to his own social media to villainize the company for refusing to book him going forward.
Situations like the one Brittany so kindly shared with us are met with a lot of harsh skepticism and a tense request that we keep our mouths shut. This is not just an issue at a wrestling level but for women across the board.
The worker currently isn't being mentioned because of fear of further backlash, harassment and a furthering sense of dread with regards to attending wrestling events. We don't want to see the promotions that go out of their way to be decent promotions hurt because of scorned men who don't want to let go of their patriarchal privilege.
We're finally getting our brief reprieve from having Jerry Lawler on commentary, but we're not out of the weeds yet. Someone other than Mr. McMahon needs to tear down this wall and let wrestling fans know that there's no more room for sexual harassment here.
That one day, twitter feeds won't be inundated with men explaining why it's okay to ask if a female wrestler has breast implants.  Soon rape jokes won't just be seen as ribs in t
he locker room, or in training centres, that are fun and lighthearted.
Eventually, intergender matches won't be rife with spots where our opponent drools and gets a huge pop from the crowd by miming that they're going to fuck us or get their face between our legs. *Insert pathetic wolf whistle here* We're here to let everyone, including Ric Flair, know that Space Mountain may be the oldest ride in the park, but it's high time we shut the old guy down and give him a rest– the park is desolate and he doesn't even go here. We got off that ride ages ago and we'll do just fine without it.